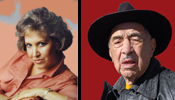 COWBOY-VAQUERO and TRADITIONAL RECIPES pages moved to terrapatrefarms.com/cowboy-history/
For the members of NMHCPL, La Jornada represents our deep desire to acknowledge our Spanish Colonial roots and surely must have been in our souls when Millie Santillanes ignited the flame. We were invited to her home in 1998 when NMHCPL was born. Over 8 years a monument to honor our antepasados was conceived, funded, and achieved. It was a journey of many twists and turns but the result is worth the effort.  Many of us have experienced the manifestations of the Black Legend and members of NMHCPL are determined to correct the misinformation and educate the public on our culture. The sculptures depict, in life-size pieces, Don Juan de Oñate leading a caravan of settlers into New Mexico. The art work was so large that two artists, Sonny Rivera and Betty Sabo, were necessary to complete the project in the amount of time allowed. Sonny (Reynaldo) Rivera points out that several people made personal sacrifices to move the monument forward. He wants to recognize Adele Hundley for the courage and determination to push the monument through the City legislation. Sonny grew up along the Camino Real near Las Cruces and was thrilled to be able to put his talents toward a part of his heritage. Betty Sabo made it her own personal battle to ensure that the Hispanic heritage was recognized. Our ancestors signed on with Oñate for a jornada to a better life. NMHCPL is asking that you join us in recognizing what they have accomplished. 
FOUNDING MEMBERS
Anaya, PHD. Susana Pauline
Cordova, PHD. Gloria
De Aragon, Max
Dominguez, Orae
Gonzales, Nicolas
Gonzales, Ramon
Lucero, John R.
Lucero, Conchita
Martinez, David
Quintana, Richard P.
Rodriguez, Robert
Roybal, Marie
Sanchez, Bernie S.
Sanchez, Juanita G.
Sanchez, Joseph Dennis
Santillanes, Millie
Santillanes, Vidal
New Mexican Hispanic Culture Preservation League
Mission Statement
The Mission of the New Mexican Hispanic Culture Preservation League is, to preserve the heritage, Spanish language and the history of Hispanic New Mexico. To promote the education and understanding of the contributions of Hispanics to the development of New Mexico and the Nation. To protect the history of the New Mexican Hispanic heritage and culture. To achieve this mission, we promote the TRUTH of our heritage and history and restore the PRIDE and HONOR of our New Mexican Hispanic Culture
Join With Us
We become more powerful in numbers. The New Mexican Hispanic culture is unique in the Hispanic world and the US in general. It is important that our children, grandchildren, and future generations know Hispanic culture and history. It is no less important a history then that of others in the US. The Hispanic Culture Preservation League is doing it's best to have NM Hispanic history acknowledged and corrected in our public schools. Our ancestors were prime players in New Mexico's History. How sad that we did not learn that in school. Now we, and our children have a chance to learn of our connection to New Mexico, and others will receive a better understanding of our place in US history.
Thanksgiving
NMHCPL lobbied the NM State Legislature to declare April 30th as the First- Thanksgiving, and in 1999 succeeded. The ceremony over 400 years ago was marked by a high Mass giving thanks to the Lord, a banquet shared with the local natives, and an original play written by Captain Farfan de los Godos.
NMHCPL Projects
A legislative bill to make Don Gaspar Perez de Villagra's epic poem, published in 1610, "Historia de la Nueva Mexico" the epic poem of New Mexico. This being helpful in educating our children on their history. In a meeting with Governor Bill Richardson, the Board is advised that the Governor would pursue naming Villagrá's poem at the state epic poem of New Mexico by Executive Decree.
A requirement for graduation from a High School in New Mexico, two semesters of New Mexico History. UPDATE!! HB 139 Requiring one half semester of New Mexican History be taught, PASSES! And has been signed into law by Governor Bill Richardson. Thank you to all who worked so very hard on this project: Samuel Delgado, Robert Rodriguez, Ruben Salas, Eva Torres Aschenbrener and many, many others who called, visited and wrote letters to their legislators and the Governor. SUCCESS! After seventeen years of work!
A requirement for teacher certification, in New Mexico, a three hour course in New Mexico History.
A letter to the president of UNM Press concerning books published by them with unsubstantiated negative information.